P.A.C.E. Program Recap 2017-2018
Blog by Natalie Hyland
The first year I saw the PACE program in action, I didn't think much. I had just started my first job at Chevy in Longview and got a call that they needed someone to help with a kids' bike event. It was only for a couple of hours on a weeknight so, I figured why not.
Around 150 kids got bikes from Kelso and Longview schools that year, even a few from the elementary school I went to. The kids I saw then weren't as excited by the bikes, most of them probably had one at home that their parents either bought them or they got when their siblings outgrew it. There weren't any vendors at the party either, just a rented bouncy house and a BBQ we borrowed from down the road.
When I came to the Toyota of Yakima store, there was a huge difference. The sheer number of kids was incredible. In my first year, over 700 kids got bikes. This year more than 600 rode away proud of their attendance.
Sure, the flu kept a huge number from reaching their bike this year, but you'd never know from the excitement that surrounded the final weeks leading to the party.
The community support of the program in Yakima is insane. So many groups help out, donate and encourage students here. From mid-April to almost July, the dealership is absolutely buzzing.
The bikes started arriving in boxes in April, by the time they were all here we had filled both new car delivery bays and storage areas with bikes and helmets. Multiple groups volunteered to help build everything since Toys R Us couldn't help this year.
GRACE Church in Moxee came in and worked until 1 a.m. more than a few nights to get us enough bikes for the party. What the church didn't build, salesmen, service technicians, and the parts department helped make. School district administrators stopped by in the evenings to put together bikes with their families.
While all this was going on, Robbie Bustos planned everything down to the dot. Yakima's PACE party takes an entire Saturday from 9 a.m. to 6 p.m., and teams of volunteers to recognize everyone. Robbie and I spent hours making lists of students, counting bikes and handwriting every certificate.
By the time everything was ready to go, there were so many bikes inside that we could only fit two or three cars in a showroom that usually holds seven or eight. After months of planning, the party itself flew by. Bud Clary Toyota of Yakima recognized students from 18 different elementary schools in Yakima and the surrounding areas.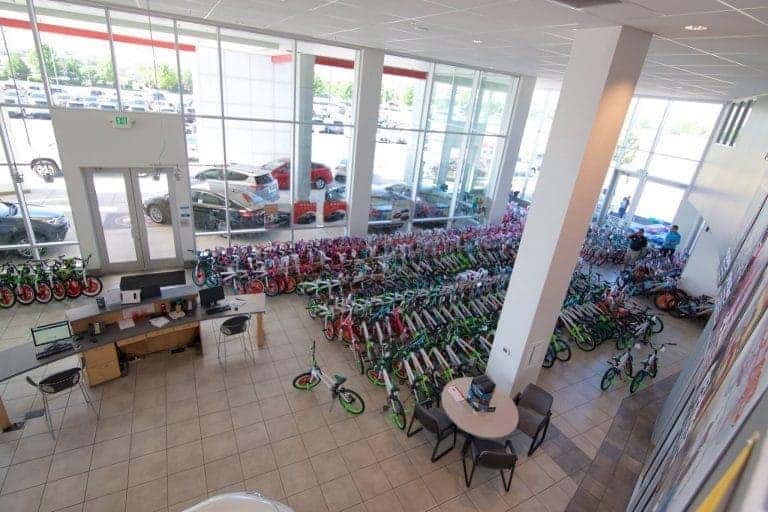 Together Youth Church had a whole team of volunteers helping with beverages, parking, checking kids in and giving glitter tattoos. Phoenix Protective Corp. cooked hot dogs and tacos non-stop for everyone. Yakima Ice Company and Good Hair Salon provided free snow-cones and haircuts for families that came.
So many people donated hundreds of hours to the program over the course of the school year, seeing it all come together so smoothly was almost unreal, but even after the guests cleared out, the work was nowhere close to done.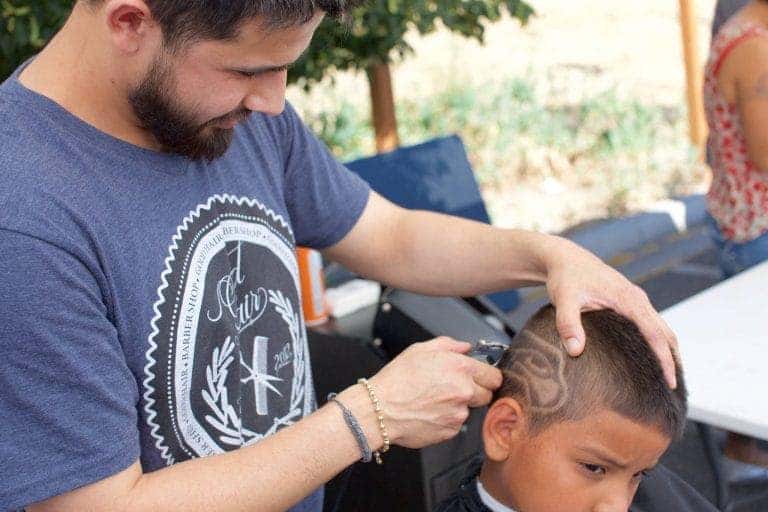 Good Hair Barber Shop showing their support by giving free haircuts to the kids.
The most memorable part of the entire program for me in the three years I've helped with it came after this year's party. Instead of students who couldn't make it to the party coming in to get their bikes, Robbie and I loaded up the parts van and brought the bikes to the students at their schools.
Over three days and four different trips, we visited a majority of the schools that participated in Yakima and Wapato. Everywhere we went I got to see and hear the difference the program made in the schools.
Multiple people from every school thanked us profusely for what we were doing. Principals talked about how before the program, it was a struggle to get kids to come to school and stay in school and now it's a struggle to send kids home when they're sick.
Many of the schools we visited are also participants in next year's program and getting to tell them that we were going to continue to recognize their students was awesome to see.
One school we visited in Wapato had kids in the office when we got there. I could tell they had no idea why they were called into the principal's office and probably feared the worst. As we wheeled the last bike in, he told them why they were really there.
The three of them all had perfect attendance but weren't able to make the party because of graduations or other commitments, but they still got their bikes. The boy we delivered the bike to was smiling so big it melted my heart.
The students themselves are a huge motivator for me to want to continue helping the program. So many students went above and beyond. One even asked which of his classmates needs encouragement every day and talked to them about how he won a bike last year. He gave his bike to a student that got sent home with the flu.
If the only thing the kids take away from the program is to try your best to accomplish your goals and help your friends reach theirs too, I'd be okay with that.